I vowed never to watch another CBS show again when they took The Guardian off the air, back in 2004.

I kinda broke that promise by watching a *taped* episode of "Cold Case" - Blood on the Tracks, in which Jamie Bamber guest-starred last year. But this is different...

Simon Baker is coming back to CBS in a new show called "The Mentalist". Squee!

The show is about a man (starring Simon Baker) who helps investigators solve tough cases while searching for the murderer of his wife and child.

Sounds a bit similar to the other crime-dramas on TV these days? Maybe so. But I'm heartened by the fact David Nutter is billed as the director, and Bruno Heller as the writer.

Apparently David Nutter has directed shows like "Terminator: The Sarah Connor Chronicles", "The Sopranos", "Supernatural", "Without a Trace", "The X Files", etc., and Bruno Heller was one of the writer/creator of "Rome" (unfortunately he was also the executive producer of "Bionic Woman", but so was David Eick, heh).

Interested? Here's a link to a preview clip.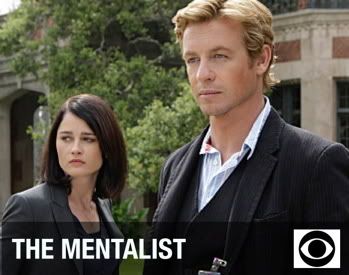 Is the girl beside Simon the actress who played Veronica in Prison Break?! Yay!

ETA: I now have a new quote (after watching the clip 10th time):



"He irks me... He's irksome."


Gotta love the 2 second pause he put in-between the line, and The Walking Out. After all this time, I still *love* seeing Nick Simon's back... ;)


THE MENTALIST stars Golden Globe Award nominee Simon Baker as Patrick Jane, a detective and independent consultant with the California Bureau of Investigation (CBI), who has a remarkable track record for solving serious crimes by using his razor sharp skills of observation. Within the Bureau, Jane is notorious for his blatant lack of protocol and his semi-celebrity past as a psychic medium, whose paranormal abilities he now admits he feigned. Jane's role in cracking a series of tough high-profile cases is greatly valued by his fellow agents.

However, no-nonsense Senior Agent Teresa Lisbon (Robin Tunney, "Prison Break") openly resists having Jane in her unit and alternates between reluctantly acknowledging Jane's usefulness and blasting him for
his theatrics, narcissism and dangerous lack of boundaries.

Lisbon's team includes agents Kimball Cho (Tim Kang, "Rambo"), Wayne Rigsby (Owain Yeoman, "The Nine"), and rookie member Grace Van Pelt (Amanda Righetti, "The O.C."), who all think Jane's a loose cannon but admire his charm and knack for clearing cases.

The show is on CBS's Fall schedule by the way!