I apologize for the delay in putting this up. I'm having some technical difficulties in uploading my stuff. First of, I recorded about 16 minutes of video from the moment the boys walked into the room. Problem is the file is so large that I had to archive them in three separate RAR files in order for me to hang them up on a server.

Here are the download links @ mediafire:
SFConBreakfast.part1.rar
SFConBreakfast.part2.rar - re uploaded.
SFConBreakfast.part3.rar
These rar files are self linked. To extract the MP4 file, download all three of them and then start extract the *.part1.rar by double clicking on it in the file browser. The extraction will automatically continue onto the next part once that's done, and so on until all is extracted.

[ETA: It came to my attentions that the *.part2.rar file @ mediafire was somehow corrupted. I'm not sure about the *.part3.rar file. I test downloaded it fine, but others were reporting problems downloading it too. I'm re-uploading the files, and meanwhile, I also uploaded them @ megaupload:
SFConBreakfast.part1.rar
SFConBreakfast.part2.rar
SFConBreakfast.part3.rar]

I'm sorry my hands were shaking in many parts. For one thing, I was too excited at seeing the boys in person at such close range for more than 30 seconds; for another, it was very tiring holding the camera still after the first 3 minutes.

Aside from the video, I also took some pictures. Alas, herein lies my huge mistake: I just got my camera not too long before the Con and I hadn't had time to play with it. As such, I was unfamiliar with its functionality, and accidentally set the picture resolution to VGA (640 x 480) instead of HD. *headdesk*

Anyway, my picture quality came out poorly. See what I mean: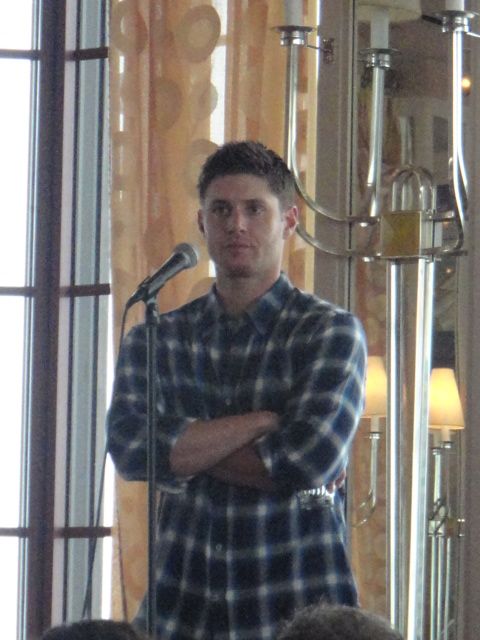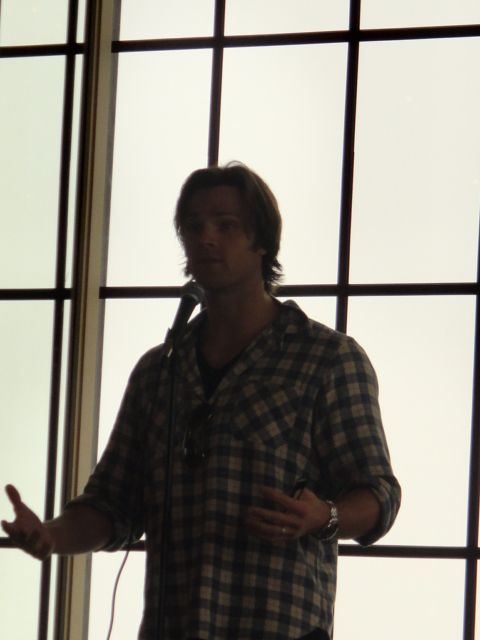 Turns out I have way more Jensen pictures than Jared pictures. This is because Jared was back lit at where he stood, and no matter how I tried, I couldn't get a clear shot of him! *facepalm*

If anyone is still interested in seeing the rest of what I have, I zipped up all the breakfast pictures, and it can be downloaded from here: breakfast.zip @ mediafire

The most exciting news came out of the breakfast was told by Jensen (not on the video clip) and was regarding an upcoming episode (6.17). By now this particular spoiler is mentioned many times over. However if you don't know what I'm talking about, and is interested in learning what it is, leave a comment down below and I'll explain to you. *g*

Stay tuned for a bit more stuff from J2 panel...